This is an archived article and the information in the article may be outdated. Please look at the time stamp on the story to see when it was last updated.
Best Teva sandals to get
When it comes to footwear, finding sandals that are both practical and stylish can be tricky. With Teva sandals, however, you get the best of both worlds. These shoes are durable, comfortable and versatile enough for nearly any walking, whether it's out in the woods or on the beach. Traditionally sporty, these sandals now come in many designs to complement nearly any outfit and style, too.
Origin
Teva sandals were invented by a river guide named Mark Thatcher who worked at the Grand Canyon in the early 1980s. Thatcher determined there were limited shoes for water activities, so he took two watchbands with Velcro and attached them to a pair of flip-flops.
This resulted in comfortable shoes that could be used in and around the water without coming loose or floating away. This footwear would later become Teva, which is known for its utilitarian style, comfort and versatility in outdoor walking.
Construction
Similar to most sandals, Teva sandals consist of three main parts:
Inner sole: Also known as the footbed, the inner sole is designed to cushion every step, support the arches, minimize impact and keep you comfortable.
Outer sole: As the outermost part of the shoe, this helps keep your gait balanced and sure as you walk on flat or rocky terrain. It also provides a solid grip so you don't slip.
Midsole: Some sandals have a midsole for additional support and comfort.
Straps: The straps keep the sandals securely on your feet, whether you're on wet or dry ground. Some straps are thicker for added support, while others are thinner and more stylish.
Purpose
Teva offers sandals for the following recreational and everyday purposes:
Hiking
Water activities
General outdoor use
Walking around town
Road Trips
Home use
Festivals
Some sandals have specific names to denote their main purpose. For example, the Hurricane line offers optimum support and comfort for hiking and camping.
Collections and collaborations
Teva has a large collection of footwear, including:
Classic sandals
Flip-flops
Boots
Flatforms
Slip-on shoes
Pride styles
Teva also collaborates with different brands, such as Anna Sui and Dublish, on its footwear. This has helped them expand their offerings to a more diverse crowd.
Sustainability
Teva is committed to sustainable fashion. It uses recycled materials and minimizes resource waste in production. The company has even introduced a recycling program for its sandals, TevaForever, which cuts down on waste.
Material
As part of Teva's sustainability efforts, many of its sandals consist of recycled materials, such as polyester yarn or plastic. Other common materials include:
Ethylene-Vinyl Acetate foam in the inner sole or footbed. This is used in sportswear to absorb shock and minimize impact. It's also lightweight, elastic and soft, ideal for anyone who enjoys long walks and hikes but doesn't want to be burdened by heavier shoes.
Rubber for the outer sole. This adds to the sandal's structural integrity and helps it keep its shape for a long time. It also provides the necessary traction when walking on different surfaces.
Leather for specialty sandals. Fashionable and comfortable, these shoes stand out.
Polyurethane in the midsoles. This provides additional cushion and support.
Some Teva footwear is also vegan-friendly. Many designs are also made with micro-ban treatment to prevent odors.
Color
When it comes to colors and patterns, Teva has an impressive selection. Popular options include:
Different patterns on the inner or outer sole
Straps in a solid color, such as dark brown, with a matching sole
Straps in one color or pattern with a contrasting sole
Two-toned straps
Stripes, polka dots or other prints on the straps
Size
Teva sandals come in sizes for men, women, children and all genders. The official website lists specific sizing information and tips on how to measure your feet to find the right size. Here are the main sizing options:
Adults — sizes 5 to 15
Kids — 0 to 2 years old, 1.5 to 5 years old, 5 to 7.5 years old, etc. (based on age brackets)
Some footwear is available in narrow or wide sizes, too.
8 best Teva sandals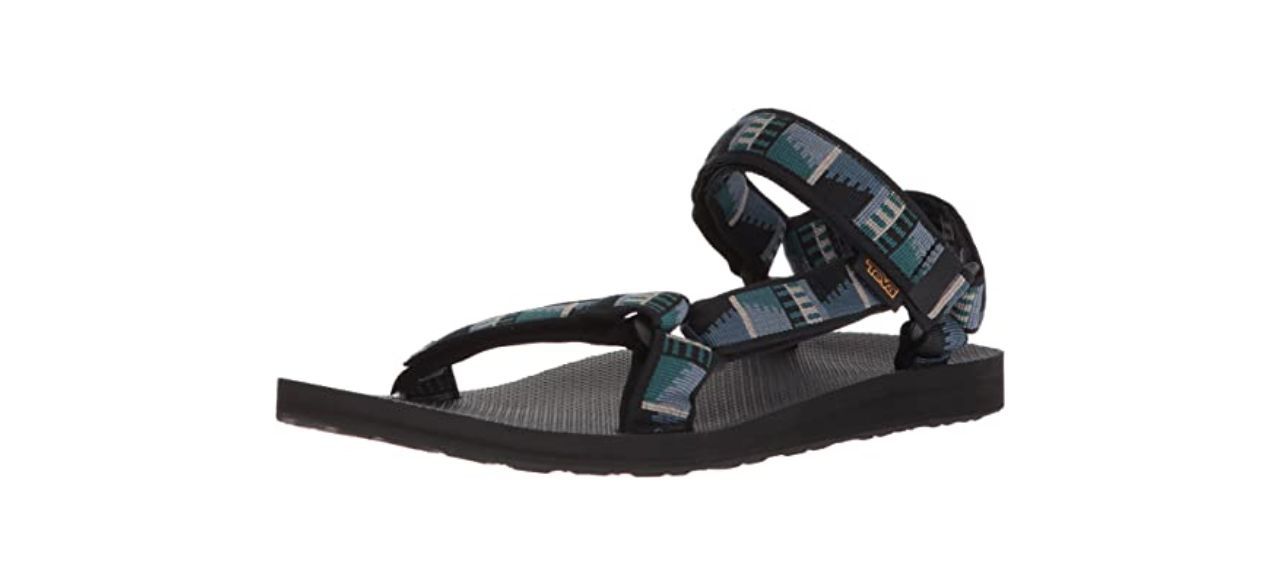 Teva Original Universal Sandal
These adult sandals are available in sizes 7 to 15. They have a thick black sole and come in 34 different strap colors and patterns. They consist of quick-drying material and have a soft, flexible midsole for additional support and comfort. The straps are adjustable for a secure fit.
Sold by Amazon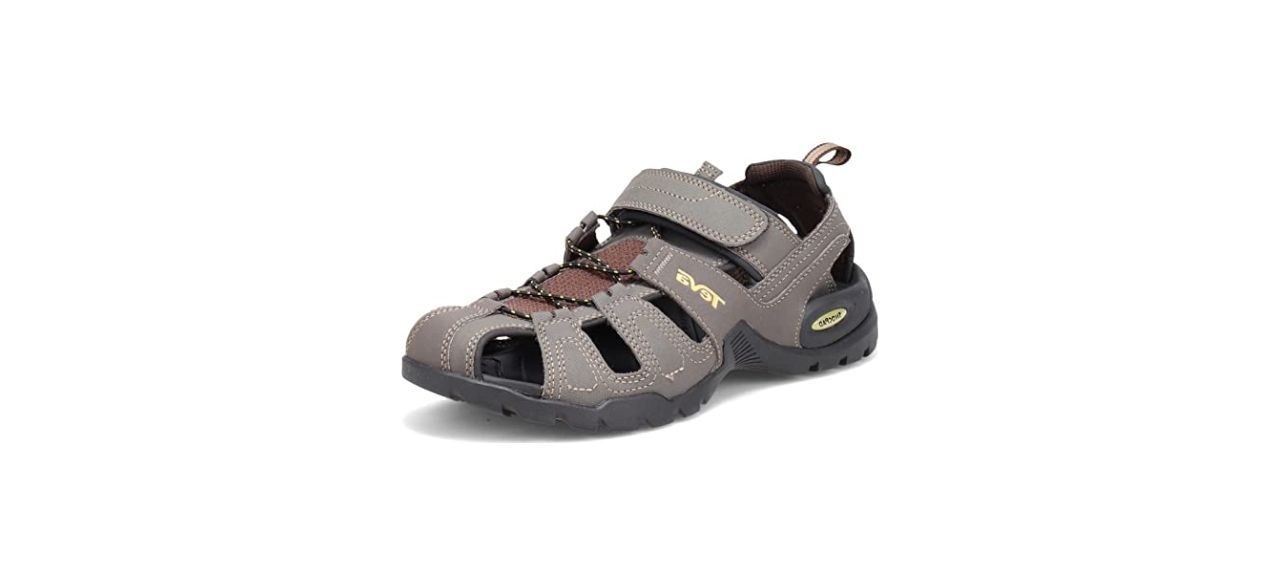 With closed toes and thick materials, these sandals provide maximum protection to your feet while hiking or camping. They have an adjustable Velcro strap and are comfortable. They're also vegan, meaning they consist of plant and synthetic materials. The rubber outer sole is durable and offers excellent grip and traction.
Sold by Amazon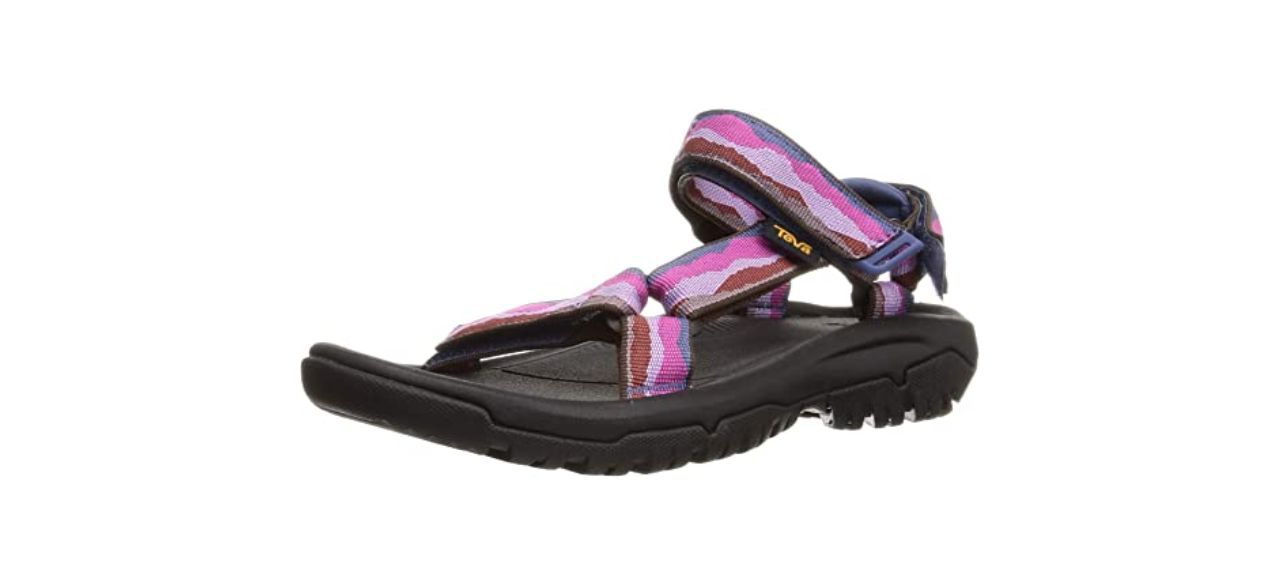 Teva W Hurricane Xlt2 Sport Sandal
These wide sandals come in sizes 5 to 14. They have a durable rubber outer sole that offers superior traction on any terrain. The adjustable straps make for a secure, comfortable fit.
Sold by Amazon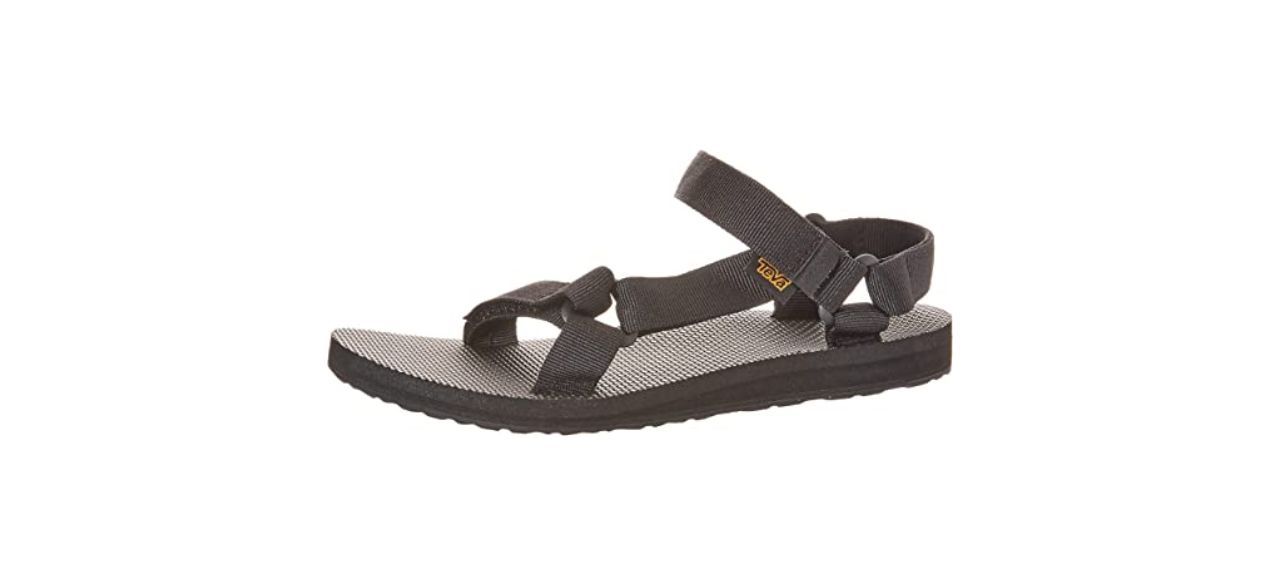 Teva Original Universal Sport Sandal
Casual and sporty, these sandals have quick-drying webbing and are constructed from recycled materials. They're rugged and shock-absorbent, making them ideal for rough terrain. They come in 39 colors, including classic black.
Sold by Amazon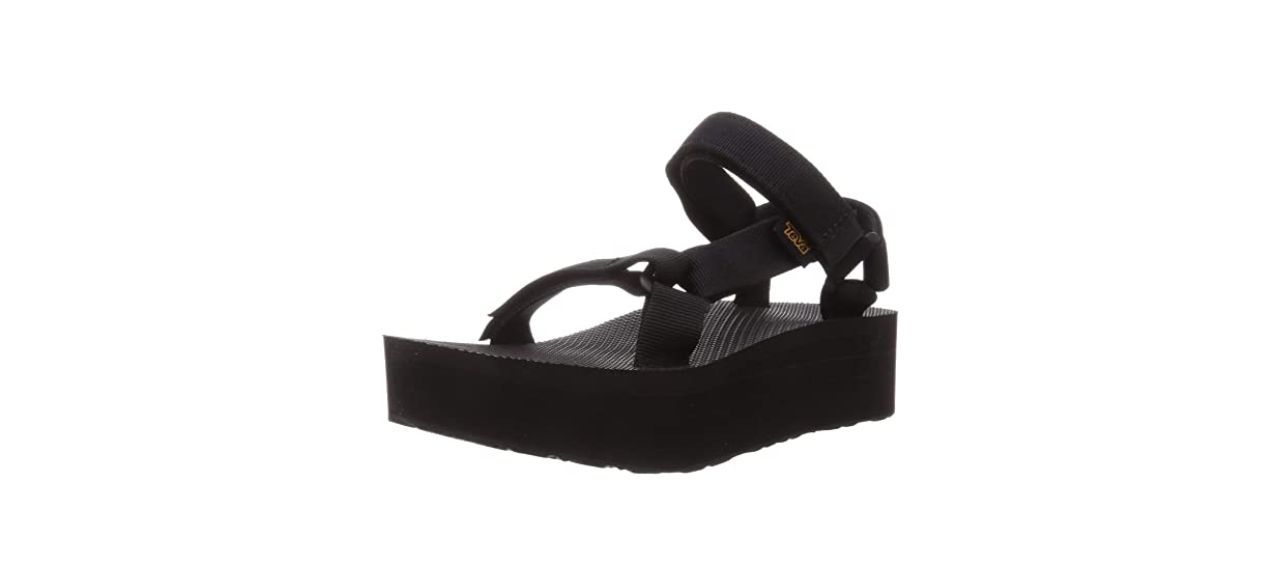 Teva Flatform Universal Sandal
With thicker soles and a supportive footbed, these sandals are made for walking in the woods, on the beach or in town. They come in adult sizes ranging from 5 to 11.
Sold by Amazon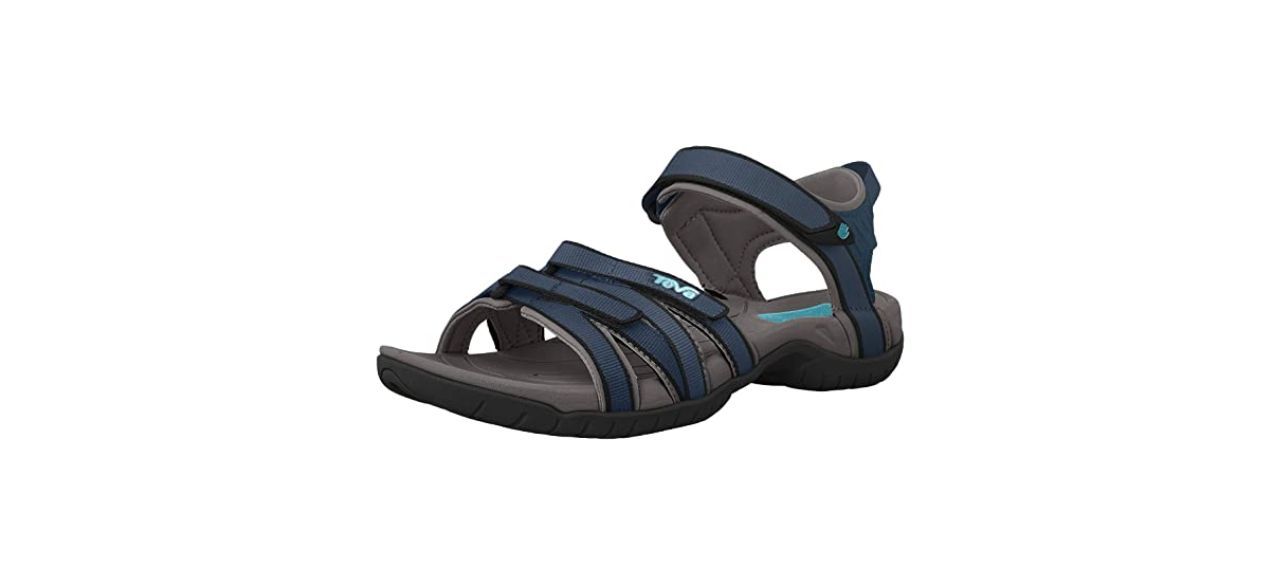 This stylish sandal has comfortable straps, a thick foam midsole that cups the heel for maximum support and a durable outer sole with excellent grip. It's available in 15 colorful designs and patterns. With adult sizes ranging from 5 to 12, it's a great all-purpose shoe.
Sold by Amazon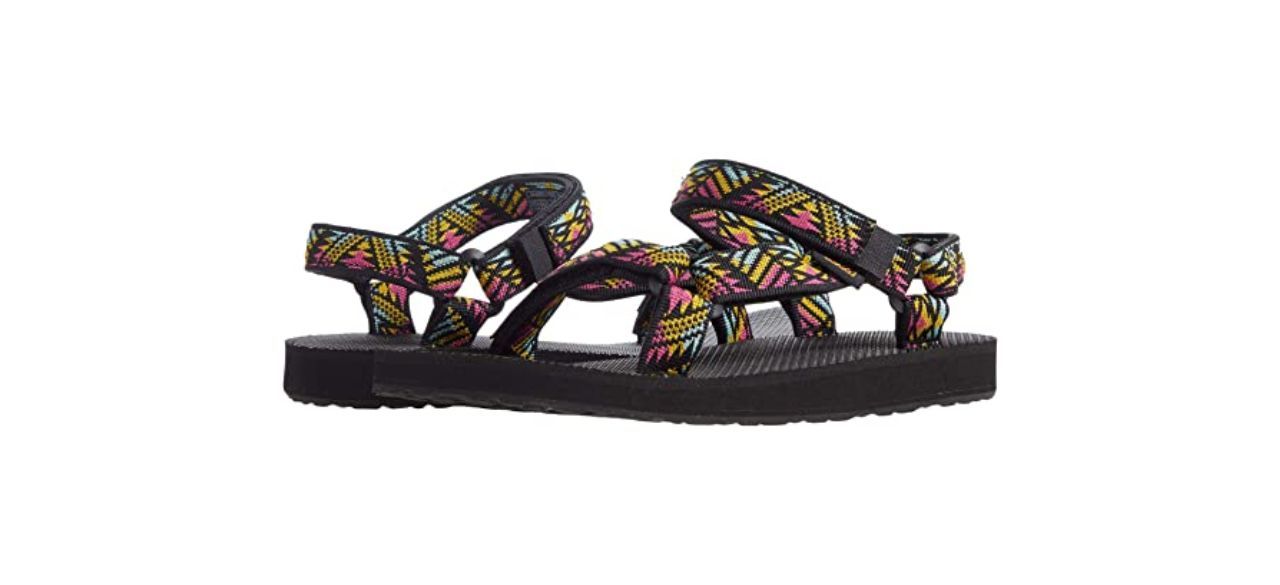 Teva Kids Original Universal Sandal
Lightweight, sporty and comfortable, these sandals are perfect for toddlers, young children and older kids. They consist of recycled plastic and polyester yarn. They also have a thick foam sole for extra cushioning and shock absorbency. The rubber outer sole is also highly durable for active kids.
Sold by Amazon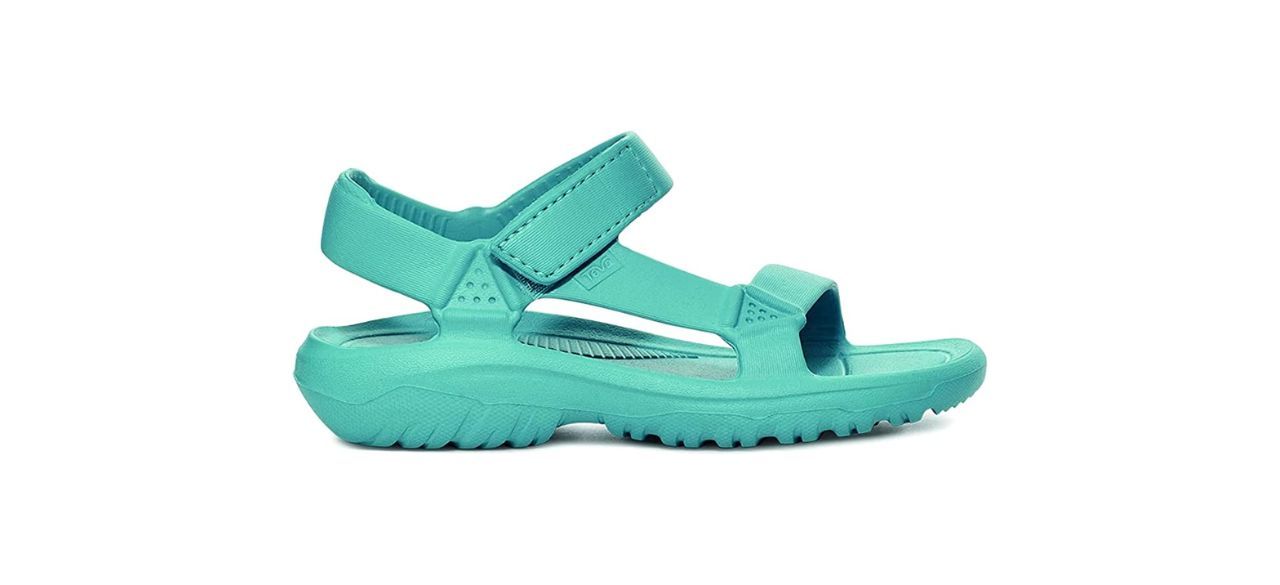 Teva Unisex-Child Kids Hurricane Drift Sandal
Designed especially for active children, these sandals come in 14 colors, including blue and fiery red. They're lightweight enough to float on water and durable to resist a lot of wear and tear.
Sold by Amazon
Want to shop the best products at the best prices? Check out Daily Deals from BestReviews.
Sign up here to receive the BestReviews weekly newsletter for useful advice on new products and noteworthy deals.
Angela Watson writes for BestReviews. BestReviews has helped millions of consumers simplify their purchasing decisions, saving them time and money.
Copyright 2023 BestReviews, a Nexstar company. All rights reserved.